Shopping with your TMRW Credit Card is rewarding

From now till 31 July, use your TMRW Credit Card when you shop. Each transaction brings you one step closer to unlocking generous GoPay balances.

For Program period
1 May to 31 July 2021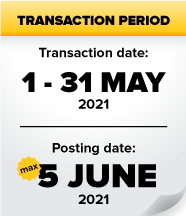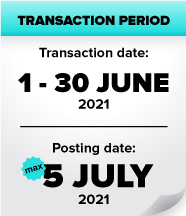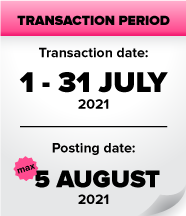 Don't miss your Tobat Beneran moment!
TOBAT BENERAN (Today Belanja Hebat, Bentar-bentar Cuan)
Terms and Conditions

Program Period: 1 May – 31 July 2021

Valid for TMRW Credit Card holder

To receive the reward, the customer will need to spend minimum Rp1.000.000 per transaction, for a minimum of three transactions. The reward amount is based on the total number of transactions:



| | | |
| --- | --- | --- |
| Level | Monthly Total Transactions | GoPay Balance Reward |
| Mulai Tobat Beneran | 3-5 | Rp150,000 |
| Udah Tobat Beneran | 6-9 | Rp300,000 |
| Raja Tobat Beneran | ≥10 | Rp500,000 |



Only retail transactions with minimum spend Rp 1.000.000 are eligible.

The following transactions DO NOT qualify for the promotion:

Cash Advance on TMRW Credit card
Installments on TMRW Credit card
Cancelled transactions on TMRW Credit Card

Total transactions are counted from the 1st of each month until the end of each month.
1st Month
Transaction Date : 1 – 31 May 2021
Posting Date : maximum 5 June 2021
2nd Month
Transaction Date : 1 – 30 June 2021
Posting Date : maximum 5 July 2021
3rd Month
Transaction Date : 1 – 30 July 2021
Posting Date : maximum 5 August 2021

Each customer will only be eligible for a maximum of 1 reward monthly.

The reward will be sent within 10 Business Days of the following month. The GoPay balance reward will be sent to the phone number you used to sign up for TMRW.
TOBAT BENERAN (Today Belanja Hebat) - T&C - General
Customer who wins has to have an active TMRW Saving/Everyday Account by the time the gifts to be distributed.

The reward tax is borne by the Bank.

PT Bank UOB Indonesia at any time at its own discretion, may amend the terms & conditions of the program, or terminate the program with a prior notice.

PT Bank UOB Indonesia, reserves the right to cancel the provision of reward if there is a fraudulent transaction or fraud against the terms of the program.

By subscribing to this program, the customers have read, understood and agreed to all applicable terms and conditions.<

For further information, please contact UOB Contact Center at 14008.

PT Bank UOB Indonesia is a banking institution registered and supervised by the Indonesian Financial Services Authority and is a participating Bank of Indonesia Deposit Insurance Corporation (LPS).